Digital Innovation and Scientific Investigations at the Hill House, Helensburgh
Sophia Mirashrafi, Digital Projects Officer, Historic Environment Scotland
Mackintosh's Hill House in Helensburgh has struggled with water ingress since its conception in the early 20th century, only exacerbated by the changing climate. In order to mitigate this, the house was placed in a protective shelter by the National Trust for Scotland in 2018.
In order to further document and understand its complex story, the Digital Innovation, Digital Documentation and Conservation Science teams at Historic Environment Scotland partnered with the National Trust Scotland to digitally document the site, and complete moisture mapping and thermographic surveys in 2019 and 2021. The work is ongoing and offers a 3D snapshot of the house, tracking moisture movement as it dries over time. 
Societal challenges
The project addresses three of the five societal challenges identified by the NHSF research working group. It contributes to sustainable development by providing assets that can be used for virtual tourism, as well as enhancing our understanding of how to sustainably care for an iconic piece of heritage. 
The work also addresses the climate emergency challenge by utilising moisture mapping and thermography in 3D space to understand how this heritage site has been affected by climate change. It also helps to develop a digital society by creating new ways to understand, access, and manage the Hill House through combined digital documentation and conservation science techniques.
Impact of initiative
The project will further understandings of how to care for Hill house and provide virtual access to it for professionals and visitors alike. Working with 3D data allows for the unique layering of data from across disciplines and research areas - including information from archival images, conservation experts, architects, and scientists - to approach the problems at the Hill House with a holistic perspective. 
The project is an exemplary case study of how cutting-edge technologies and interdisciplinary collaboration can help inform the assessment of how climate change is affecting buildings, including the understanding of past and present states in order to inform conservation decisions in the future. 
Further information
The project is partially funded by the Getty Foundation and is ongoing until 2022. You can read more about it here.
This case study has been shared under Creative Commons License - CC BY-NC 4.0 (https://creativecommons.org/licenses/by-nc/4.0/)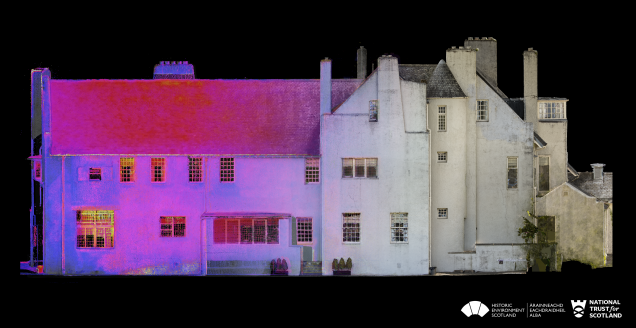 Image: Hill House south elevation – 3D model with thermal image overlay, 2019